Brian James Trailers
Brian James Trailers design and manufactures road trailers built to perform to the highest standards. Our range of car transporters includes open trailers for automotive logistics professionals, motorsport, and car enthusiasts.
They have an enviable reputation for enclosed trailers for secure car movements and semi-professional and professional motorsport. General-purpose and plant machinery trailers provide rugged and durable transport for diggers, dumpers, excavators, and access machinery as well as tipper and utility trailers.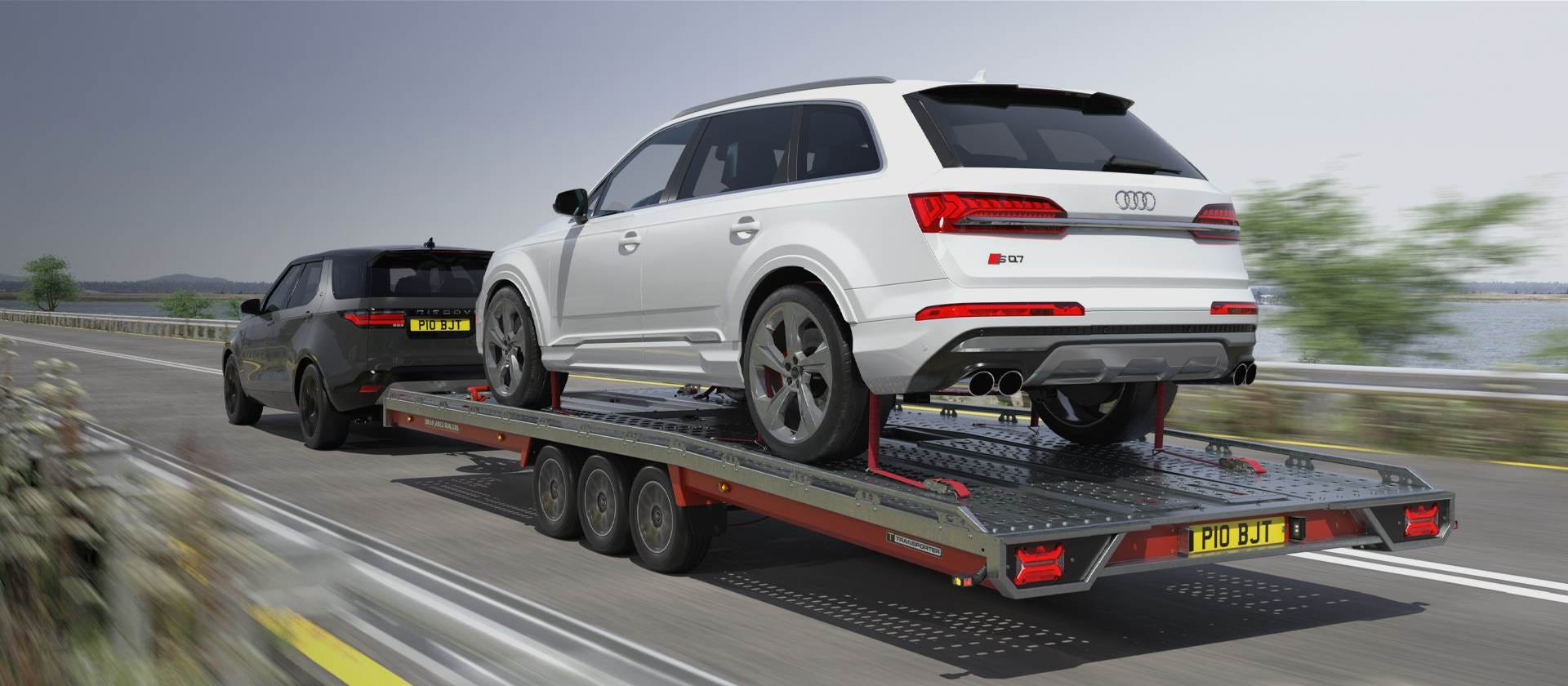 Brian James Trailers Sales, Spare Parts & Accessories
Member of the Brian James Trailers dealer network.
Alloy Wheels
Available in Silver or Diamond cut Anthracite. Alloy wheels feature BJT center caps and safety locking wheel bolts.
Deck Slick Pads
The pad raises the tyre contact area above the punched deck. Protecting cars with soft 'slick' race tyres.
Fuel Can Storage Box
Designed to carry either 1, 2, or x3 x 20ltr Jerry Cans. Lockable twin-opening doors. Available in a choice of Poppy Red, Sargasso Blue, and Arcelor Anthracite.
High-Level Tyre Rack
Transport of multiple spare wheels and tyres is easily accomplished with a high-level tyre rack. Its design places the wheels above average bonnet height, so keeping useful space available on the bed. The safety and security of the spare wheels are provided by a unique strap system and a plastic-coated cable with a padlock.
Tie-down straps
Approved by car manufacturers and race teams alike, these straps hold the vehicle safely and securely without straining the suspension geometry. Available in 'sleeve' and 'sling' styles.
Winch
Lighten the load with a choice of 3 winches. Manual 2-speed with 3-point adjustable pull positions, manual auto-braked with 6-point 'quick adjust' pull positions, or an electric solution with a 4,500lbs rating (portable 12V power pack also available).
Tyre Pressure Monitoring System
Tyre pressure monitoring system from TyrePal. In-car monitor with external sensors. Features and benefits include reduced fuel consumption, increased trailer tyre service life, improved safety, and reduced towing vehicle emissions.
Spare Parts & Accessories
We have all Brian James Trailers' spare parts and accessories available, contact us today for more information.
Are you interested in our product range?
Contact us for further advice or assistance.